Berridge Manufacturing Company was founded in 1970 by Jack Berridge who was, even then, considered to be one of the pioneers of the architectural metal panel industry. Mr. Berridge is a 1959 graduate of California Polytechnic State University and after working for Kaiser Aluminum, was a startup partner in Architectural Engineered Products (now known as AEP/Span).
During the early years, Berridge Manufacturing Company manufactured metal panels and shingles for the architect-specified market. In 1986 the company made history by introducing the first portable roll former machine capable of fabricating both straight and curved standing seam panels at the job site. The Berridge Model SS-14 Portable Roll Former, together with pre-finished steel coil material gave the roofing and sheet metal contractor unprecedented control over the production process and enabled the fabrication of continuous straight or curved barrel vault panels with no end lap splices or fastener penetrations.
Jack Berridge carved out a reputation for being a prolific innovator of architectural metal roofing products. The unique patented Berridge Vinyl Weatherseal is still without equal in the metal roofing industry. Many products marketed today were originally developed and introduced by Berridge Manufacturing Company in the early 1970's to mid-1980's. A few years later, Berridge again made history by owning and operating its own continuous coil coating paint line. This enables Berridge to provide its roofing and sheet metal contractor customers with single-source service for both roll forming equipment and coil and other accessories.
Today, Berridge fabricates, markets and services its own line of more than ten precision-tolerance portable roll forming machines which it leases or sells to its network of Berridge Licensees. The Berridge Licensee Program was established in 1993 and has now grown to nearly three hundred Roofing and Sheet Metal Contractors nationwide who own or long-term lease one or more Berridge Portable Roll Formers and who receive material discounts and support from Berridge.
The Early Years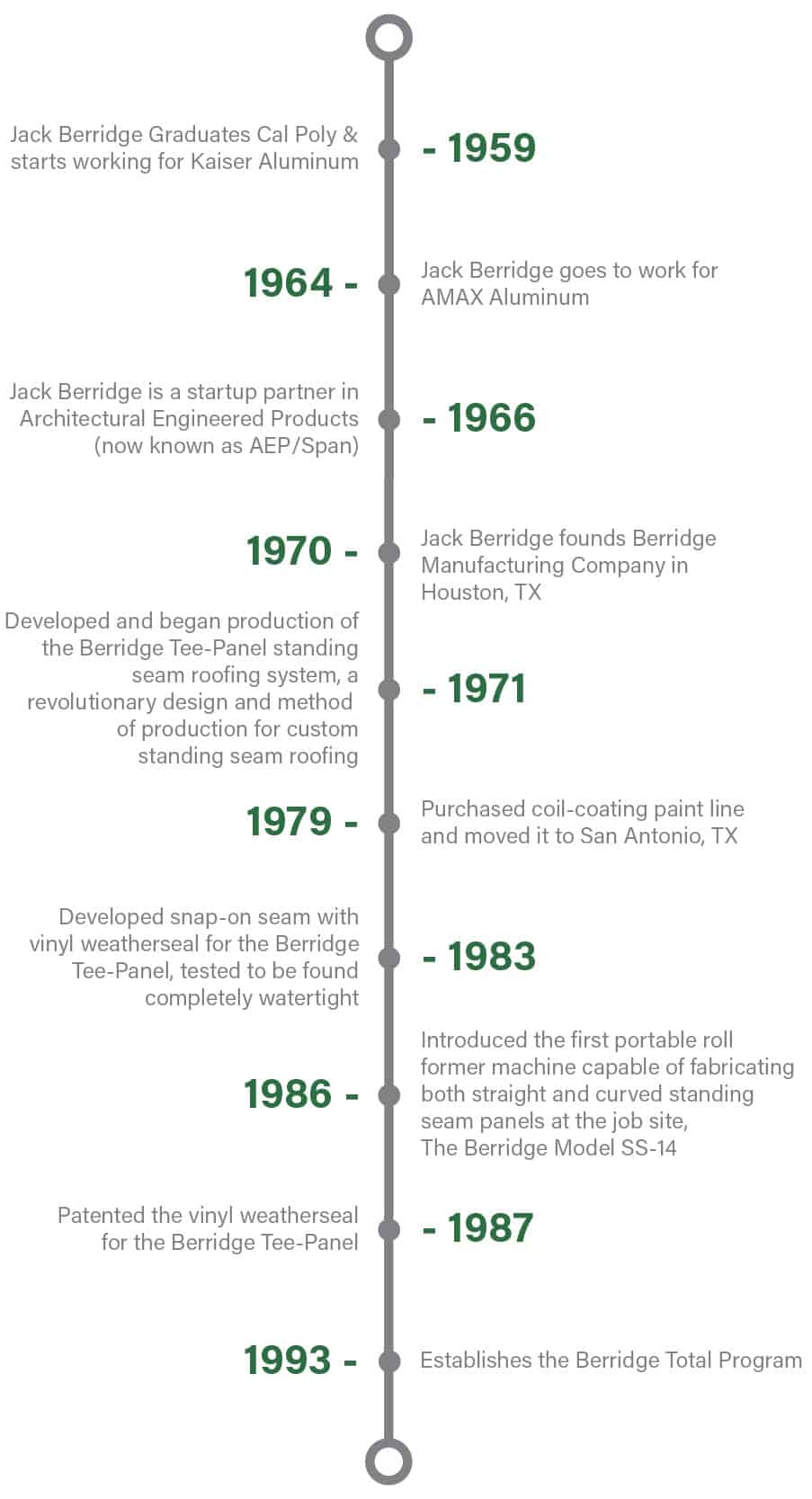 Awards & Accolades